Overview
Pros

Low price
Lightweight and attractive
Good-size keyboard
Decent sound

Cons

Just 32GB of built-in storage, with 17GB available to the user
Screen colors aren't vivid, and resolution is just adequate
Quick Take
The Lenovo Ideapad 100S is lightweight and attractive with a very usable keyboard, making it a surprisingly good budget laptop. Its Atom processor is only up to light duty, however.
---
Many people, from schoolkids to soccer moms, need a computer that's not too heavy or too expensive, like the Ideapad 100S. This is a lightweight, budget laptop for casual use: only 2.2 pounds, $199.99, and it runs Windows 10 on an Intel Atom processor. We recently reviewed the Lenovo 100S Chromebook that uses Google's Chrome OS instead of Windows, but we suspect the majority of our readers will be more interested in the Windows 10 version of this budget laptop.
Is it inexpensive or just cheap? Read on to find out.
Build and Design
This device doesn't really feel like a budget notebook. It's very light, and just 0.7 in. thick, but it doesn't feel flimsy. Instead, it comes across as a well built product, even though its entire exterior is plastic. That said, it also doesn't feel like it would survive real punishment. For example, it will ride nicely in a backpack, as long as it isn't stuffed in there with 50 pounds of textbooks.
Lenovo offers the Ideapad 100S in blue, red, grey, and white. The finish on our red review unit is matte, so it doesn't show fingerprints, which helps make it look like a quality device. The color is bright without being too garish.
The hinges are firm enough to hold the display steady, and they support 180 degrees of rotation, so the Ideapad 100S can be laid out flat. This isn't a convertible though, so the keyboard can't be folded behind the screen.
The power button is just above and to the left of the keyboard, and is just about the only external part of this laptop that made of metal. Next to it are LEDs to indicate power and charging.
Ports
There is a pair of USB ports on the right side. These are USB 2.0, so they max out at 60 MB/s. By contrast, devices with USB 3.0 ports have a max data transfer speed of about 5 GB/s. The USB ports in the Ideapad 100S are fast enough for everyday use, just as long as that don't involve moving around huge video files.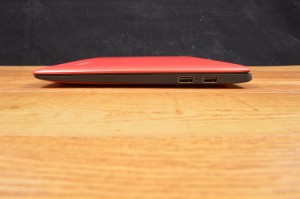 On the left side is a microSD memory card slot, which is likely to see a lot of use, as this laptop comes with just 32GB of built-in storage. We tested this device with a 64GB card without problems.
Also on the left edge is an HDMI video-out port, allowing this device to be used with an external monitor. In our tests, this function performed as expected. The headset port and power port are on this same edge. Rather than the new USB Type C, the Ideapad 100S uses a traditional barrel plug for power.
Display and Speakers
This notebook has an 11.6-inch screen with a resolution of 1366 x 768, which results in a low pixel density of 135 pixels per inch. Text doesn't appear obviously pixelated, but neither is it the kind of crystal clarity offered by high-resolution displays. Displays of this size are barely adequate for running two applications side-by-side, like the Edge web browser and Microsoft Word.
Lenovo had to cut some corners in order to keep the cost of this device below $200, and colors on this screen are washed out, not vivid. Cranking the backlight up all the way helps a bit, but that's hard on the battery. On the other hand, a matte finish means it's not too reflective — a nice touch. As with most budget laptops that use low-cost TN display panels, the optimal viewing angles are very narrow; you won't want to watch Netflix on this laptop unless the screen is directly in front of you.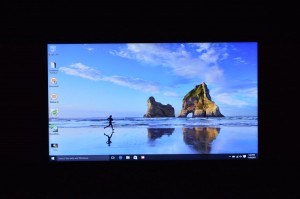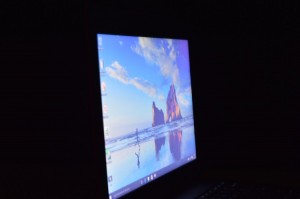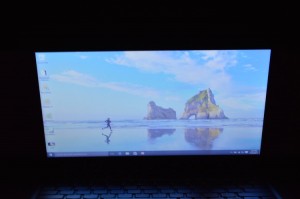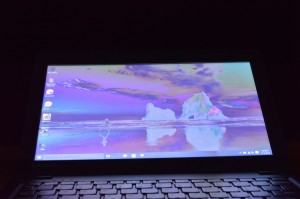 There's a pair of speakers set below the display. These have Dolby Advanced Audio Certification, and offer decent if not outstanding performance. They are up to the job of providing audio for video playing on this device, or to play music while typing.
Keyboard and Trackpad
The keyboard in the Ideapad 100S is 10 inches wide — desktop keyboards are about 11.25 inches — but it's easily large enough for comfortable touch typing. There's good key separation and adequate key travel. It's in a standard QWERTY layout with six rows of keys, including a top row with function keys that can also be used to control the audio volume, adjust the screen backlight brightness, and more.
This keyboard isn't particularly quiet, but it does feel a bit better than a $200 price tag would imply.
At 3.25 x 1.7 inches, the trackpad is large enough to be useful, and it is quite responsive. The same is true of the two dedicated control buttons that are attached beneath it.
Performance
The Lenovo Ideapad 100S is built around a 1.33 GHz quad-core Intel Atom Z3735F processor, with 2GB of RAM. That's a configuration for light duty and not anything overly demanding. Still, what do you expect for $199.99?
In our tests, we found this notebook up to the basic tasks we asked of it, such as opening multiple browser windows, playing video from a microSD card, and word processing. It would slow down a bit handling very complicated web sites with streaming HD video, but it got the job done.
This laptop uses a 32GB eMMC as its primary storage, which is essentially the same thing as a SD card, except it's not removable. This means there's no spinning hard disk, which is nice, but it also means that there's just not very much storage available. Out of the box, about 15GB of this space is taken up by the operating system. This means that adding capacity through a microSD card or the OneDrive cloud service is almost certainly going to be necessary.
Specs
The Lenovo Ideapad 100s we reviewed has this configuration:
OS: Windows 10 Home
CPU: 1.33 GHz quad-core Intel Atom Z3735F
Graphics: Intel HD Graphics (Bay Trail)
RAM: 2GB
Storage: 32GB eMMC
Screen: 11.6-inch, 1,366 x 768 matte TN LED display
Ports: 2 x USB 2.0, HDMI-out, microSD, audio combo jack
Connectivity: 802.11n Wi-Fi, Bluetooth 4.0 (Low Energy)
Cameras: 0.3MP webcam with dual-microphone
Weight: 2.2 pounds
Size: 11.5 x 7.95 x 0.69 inches (W X H X D)
Benchmark Scores
wPrime processor comparisons (lower scores mean better performance):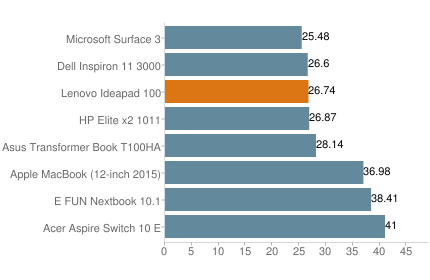 PCMark8 Home (Accelerated) measures overall system performance for general activities from web browsing and video streaming to typing documents and playing games (higher scores mean better performance):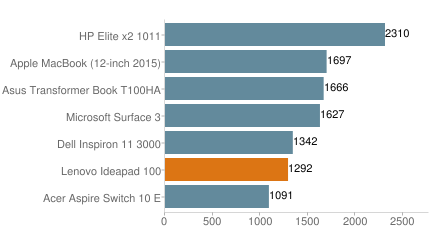 PCMark8 Work (Accelerated) measures overall system performance in Windows 8 for work-related productivity tasks (higher scores mean better performance):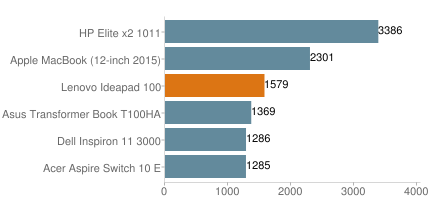 3DMark 11 is a benchmark that measures overall graphics card performance for gaming (higher scores mean better performance):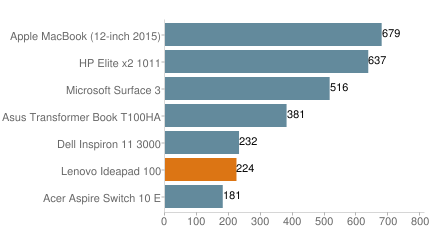 CrystalDiskmark storage drive performance test: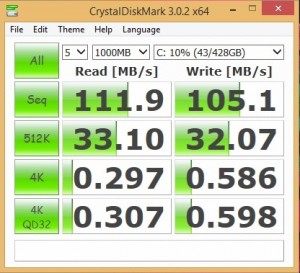 Software
The Ideapad 100S comes with Windows 10 Home. Those who haven't tried this version yet will find it to be easier to use on a laptop that Windows 8. It's quite reminiscent of Windows 7, but has some nice new features, like very fast boot times: about 35 seconds, in our tests.
This notebook comes with a free 1-year subscription to Microsoft Office 365 Personal. In addition to giving access to the latest versions of Word, Excel, PowerPoint, Outlook, and more, one terabyte of OneDrive storage is also included. Considering how little built-in storage this computer offers, this is likely to come in very handy. After a year, an annual subscription is $69.99.
Camera
The 0.3 megapixel front-facing webcam is usable for video chatting, but it has a resolution of just 640 x 480. Even phones offer better than that.
Battery Life
According to Lenovo, the Ideapad 100S will last for 8 hours on a single charge. On our real world use of this device, we found that to be a realistic claim. This laptop does't have great performance, but it's easy on its battery. As for the results from the Powermark synthetic benchmark, our tests show the battery inside Ideapad 100s drains extremely fast if you're stressing the system with more demanding tasks like video playback and rendering modern games. This is the kind of battery life we've come to expect from low-priced laptops that are designed to be "secondary use" or "travel" laptops instead of serving as your main PC.
Powermark battery life benchmark (higher score means longer battery life):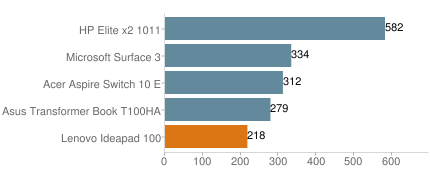 Conclusion
The days when inexpensive Windows laptops were heavy and ugly are behind us. The Lenovo Ideapad 100S is very portable and easy on the wallet. No one is going to mistake it for a high-end model, but it's surprisingly good for a budget one.
Its strengths are its lightweight form factor, nicely sized keyboard, and good battery life. It's display is adequate, and so is its performance, as long as it's not asked to do too much. It's main weakness is a real lack of built-in storage,
The Ideapad 100S competes fairly well against devices like the Asus Transformer Book T100HA that have similar specs. The Transformer Book costs almost twice as much, but it's a convertible which bumps up the price.
Those who would like this notebook more if it had a larger screen should check out the Lenovo Ideapad 100, which sports a 14.1-inch screen.

Pros:
Low price
Lightweight and attractive
Good-size keyboard
Decent sound
Cons:
Just 32GB of built-in storage, with 17GB available to the user
Screen colors aren't vivid, and resolution is just adequate
READ MORE - Lenovo Ideapad 100S Review